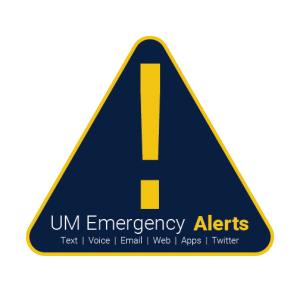 UM Emergency Alert is an urgent, mass notification system that keeps students, faculty and staff informed about major active emergencies on campus. This system will be activated without undue delay by the Division of Public Safety and Security (DPSS).
Alerts will be delivered via:
Text message (SMS)
Voice message
Email
University of Michigan's digital displays
U-M students, faculty and staff sign up for voice and text EAlerts on Wolverine Access.
You can receive emergency alerts via the Michigan App or the DPSS App even if you are not an active student, faculty or staff member.
Examples of major emergencies
UM Emergency Alert usually won't be used for localized incidents within a building, such as a small fire. This system is reserved for campus-wide emergencies, which include but are not limited to:
An active violence incident, such as an active shooter
A tornado warning for Washtenaw County
A severe thunderstorm with wind greater than 75 miles per hour
A major spill of hazardous material(s)
For more information about UM Emergency Alert, please read the frequently asked questions.