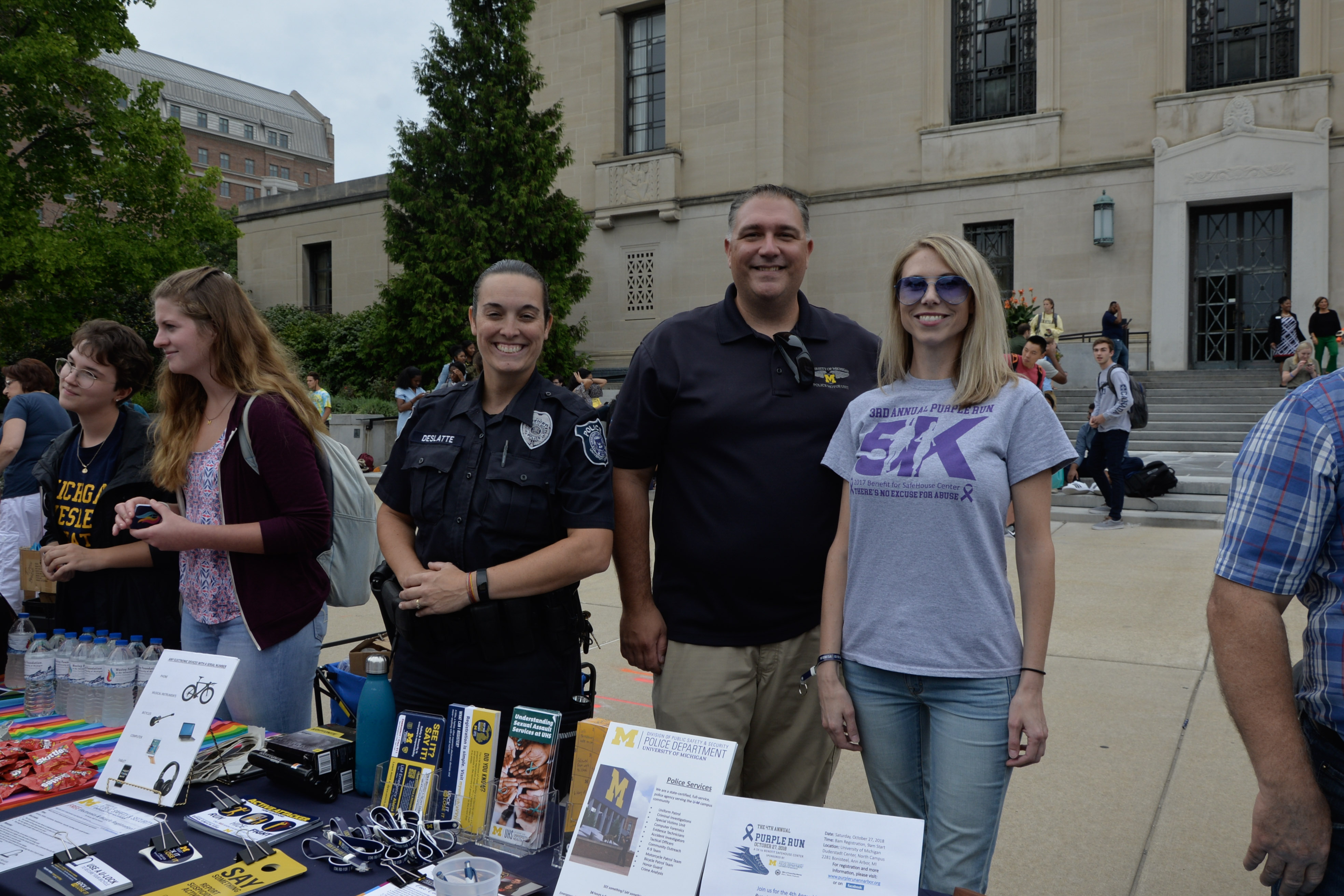 The Division of Public Safety and Security (DPSS) Community Engagement Unit engages and partners with students, faculty, staff, patients and visitors to educate and inform about preventing crime and safety hazards on campus. We encourage our community members to take a proactive approach to safeguarding themselves and others. Together, we can make the University of Michigan a safer and more secure place to study, work, live and heal.
Our Services

Community Engagement provides the following services to the U-M community:
Community event participation
Police station tours
For more information about these services, contact us!
Phone: (734) 763-3434
Email: dpss-safety-security@umich.edu
Visit in person: Campus Safety Services Building, 1239 Kipke Drive (close to Michigan Stadium) M-F from 8 a.m. – 4 p.m.
Our Goals
Our Community Engagement team aims to:
Connect with the U-M community through innovative lifelong learning opportunities
Engage in dialogue about safety, awareness and community development
Strengthen relationships and facilitate partnerships
Our Approach
Our Community Engagement Unit—a diverse team of officers from the U-M Police Department (UMPD), Housing Security and Michigan Medicine Security—works together with the U-M community to provide education, timely communication and community engagement. We empower community members to take charge of their own safety and collaborate with DPSS to make a safer and more secure campus.
Who We Are
Gary Hicks

Sgt. Gary Hicks serves as community engagement supervisor and develops educational and safety programs.

Favorite quote: "You can NOT be a leader unless you like people! You've got to spend time with them, so you know them. You've got to be interested in who they are, what they do away from the job, and how they think." –Bo Schembechler

Read More

 

A world-class track & field athlete, Gary has several years of experience as a sports coach and high school teacher. Gary began his police career in Detroit. In addition to his U-M duties, Gary also is a part-time faculty at the Washtenaw Community College Police Academy. Gary earned a B.A. degree in kinesiology with a minor in theater/acting from U-M. 

As a martial arts black belt instructor, Gary helps others reach their self-defense and fitness goals. He also is an accomplished musician.

Hide
Police Officer Kaitlin Deslatte
(734) 764-5655
kdeslatt@umich.edu

Officer Kaitlin Deslatte is assigned to the Community Engagement and Special Victims units. She enjoys interacting with student groups, collaborating with community partners and working on issues of sexual assault and domestic violence awareness.

Favorite Quote: "In dangerous times, there is no sin greater than inaction." –Dan Brown

Read More

Before joining UMPD in 2013, Kaitlin served in the Woonsocket Police Department in Rhode Island. She has completed a wide range of police training, including interpersonal violence and trauma-informed interviewing. Kaitlin earned a B.A. in anthropology from Northwestern State University (Louisiana) and an M.A. in historical archaeology from the University of Massachusetts. She likes to cook (and eat) Cajun food and listen to zydeco music, and her favorite holiday is Mardi Gras.

Hide

Police Officer Justin Berent
(734) 763-1007
justinbe@umich.edu

Officer Justin Berent focuses on reducing drug and alcohol harm through education and prevention. He collaborates with the Ann Arbor Police Department to go beyond the U-M campus to educate in nearby neighborhoods and businesses.

Favorite Quote: "The difference between ordinary and extraordinary is a little bit extra." –Jimmy Johnson

Read More

 

Justin worked in law enforcement for the cities of River Rouge and Wayne before joining UMPD in 2011. He currently serves in multiple units including tactical, field training, bicycle and special victims. Justin has a B.A. from Ferris State University, where he also was on the Bulldog football team. Justin enjoys history movies and shows, family game night and fitness activities.

Hide